Upcoming Events
27th Annual Alumni Golf Outing (Prairie Landing Golf Club) 9:00 a.m.



10/10/2016


Columbus Day - No School

10/13/2016
Choral Concert; 7 p.m. (Kuhn CAC)


10/8/2016

Fathers' Club Spartan Football Tailgate - beginning at 4:00

p.m.




10/15/2016

Alumni Association All-School Reunion - Oktoberfest


10/19/2016

Seniors - College Day; Juniors and Sophomores - Testing; Freshmen - Retreat


10/23/2016
Open House; 11:00

a.m.



10/24/2016 » 10/28/2016
Red Ribbon Week; October 24-28

10/29/2016
Haunted House

11/1/2016
All-School Liturgy - All Saints Day; 8:00 a.m.

Follow us on Instagram
View our profile on Linkedin
Donate to St. Francis
Note from the Principal

As you may be aware from recent media accounts, there have been reports of several incidents in the Chicago-land area involving individuals using clown personas to frighten and intimidate others-particularly children and young adults. These threats appear to be part of a nationwide hoax and are occurring in many states. Along with frightening children in-person, this is also occurring through the use of Facebook and other popular social media.


As with any significant safety or security issue, the school will report any suspicious clown-related incidents to the local authorities. If you see something suspicious, or experience alarming clown-related incidents in your community or through social media, please notify your local police. Also, since these threats appear to be part of an internet hoax, please caution your children about what they post and share on social media.

Thank you for your ongoing support.
---
Congratulations to the October Student of the Month Recipients:

Business & Technology - Nick Brouch

English - Gemma Vaquero

Mathematics - Morgan Jean

Performing & Visual Arts - Katie Kubik

Phys Ed & Health - Martha Minarik

Religion - Katie Harvey

Science - Josh Winslow

Social Studies - Adam Cook

World Languages - Kailee Pearson


Blessings,
Raeann Huhn Principal

St. Francis High School
onCampus School Calendar

For events affiliated with St. Francis High School please refer to our
onCampus School Calendar
. Please see
linked user guide
as a reference
to access event information.
Fall Choral Concert

The St. Francis Music Department presents

A Fall Choral Concert
Thursday, October 13

7:00 p.m. - Kuhn Cultural Arts Center

St. Francis High School

Admission is Free - Please bring non-perishable food
items to donate to the Neighborhood Food Pantries
Senior Graduation Announcements
Now is the time to prepare for Graduation 2017!
During homeroom on Friday, October 7, 2016, an information assembly for all seniors will be conducted by Jostens. Seniors will learn how to order graduation announcements, caps and gowns. Please visit the Jostens' official website
www.jostens.com
to review and fill out the order form.
Fashion Show Model Signup
Begins Next Week!

Sophomore, Junior and Senior men and women have their chance to walk the runway in the annual St. Francis High School Fashion Show, held on Sunday, November 20. From spirit wear to casual looks and even formal attire, our student models show off the latest fashions at this event. Signup will be available online starting next week at
www.sfhscollegeprep.org/fashionshow
.
Don't forget to "like" our Facebook page at

www.facebook.com/sfhsfashionshow
A Night at the Races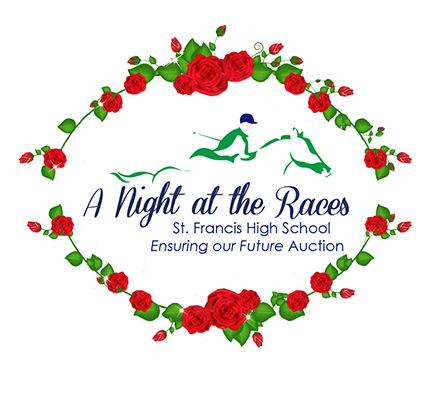 The calendar has turned to October and in addition to cooler weather, it also means kickoff time for our
2017 St. Francis Annual Auction
.The theme this year is
A Night at the Races
and the auction will be held on Saturday, March 11 at St. Francis High School. We are looking forward to another wonderful evening of friends, food, music and auction bidding.
Everyone's help is vital for a successful auction. The auction kickoff meeting will be Wednesday, October 19, at 7:00 p.m. in the Rosmonowski Room at St. Francis High School. The committee chairs are secured so please join us for the committee work. We will begin to discuss the theme, decoration ideas, auction items, etc. Please join us and bring a friend or two as it is a great way to meet fellow parents and get involved.


In the meantime, if you have any questions, please do not hesitate to contact one of the auction chairs. Maria Reda Gulli,
pmgulli@comcast.net
, Deb Hodgett,
debhodgett@aol.com
, Alicia Napoli,
alicianap@aol.com
, Lori McLoud,
lorimcloud@comcast.net
, Jen Smith,
jennifer404smith@yahoo.com


We look forward to seeing everyone on the 19th.
Fathers' Club Spartan Football Tailgate

The St. Francis High School Fathers' Club invites the St. Francis community to the Spartan Football Tailgate. Let's fire up our Spartan Spirit to cheer on the varsity football team as they take on Lake Forest Academy. Mark your calendar to be at St. Francis High School on Saturday, October 8. Tailgate in the SFHS East parking lot (Spyglass Athletic Center in the event of rain). Festivities begin at 4:00 p.m. and include 2 LIVE SFHS student bands; Written in Stone & Open Water, Bean Bag Toss tournament, Face Painting by SFHS Art Students, Faculty Dunk Tank, Pass/Punt/Kick tournament AND a Pep Rally! Join in the fun with the SFHS band ensemble, cheer and dance teams and hear from head coach, Joe Lepsche. Admission to the tailgate is FREE. Pork BBQ, side dishes and beverages will be available but feel free to bring your favorite tailgate dish to share. Alcoholic beverages are not permitted at the tailgate. For additional information contact John Pechan
jpechan@rgmetals.com.
FAFSA Applications Due Soon
The 2017-18 Free Application for Federal Student Aid will be available starting October 1 - earlier than in previous years - and students and parents will use 2015 tax data which can be imported automatically from the IRS.


Students and parents are encouraged to complete the FAFSA as soon as possible, even before being admitted to college. The FAFSA considers students for Pell Grants, federal loans, and Work-Study programs at any college they choose to attend. Most universities will also use it to determine what institutional aid the student will receive. If a student wants to receive any type of need based aid, such as a Stafford Loan, he/she must file the FAFSA.


A
Federal Student Aid ID
and 2015 tax documents are needed to complete the FAFSA. Students can send their FAFSA results to up to 10 colleges (and add more later, if they wish), and selected schools will automatically receive FAFSA results.
Culinary Club & Arts and Crafts Club
Join the Culinary Club & Arts and Crafts Club after school on Monday, October 24 for a joined Halloween Food & Craft Party. Learn how to make delicious Halloween treats and SPOOKY Halloween crafts. Activities might include making your own spooky door signs, Halloween room decorations & spooky books as well as Halloween-themed food items. We will meet on Ocotber 24 in the teachers lounge from 2.35 p.m. to 3:30 p.m. Arts & Crafts members do not need to sign up. All other students do need to sign up in Ms. Fairhead or Mrs. Holinger's room. Spots are limited, so sign up ASAP to ensure YOUR spot. See Mrs. Rupp, Mrs. Holinger or Ms. Fairhead for more information.
Winter Sports Registration Open
Winter sports registration is now open. In order for your student to tryout or participate in a winter sport, you must register on 8 to 18. Please logon to
https://sfhs.8to18.com
to register. If you have any questions, contact Janet Thelen
jthelen@sfhscollegeprep.org
.
Leadership
Positive Attitude
Service and Community
Preparing for High School
Teambuilding
Identity
Becoming a Role Model
Character Strength

Rise Up is an opportunity for all current 8th grade students to participate in a day of leadership, teamwork, character building, and service run by the National Honor Society. St. Francis' National Honor Society members will guide current 8th grade students through activities and workshops that will prepare them for high school and beyond.
Saturday, November 5, 2016

Check-in begins at 9:30 a.m. at St. Francis High School

Pick-up is at 1:30 p.m. at St. Francis High School

The registration fee for Rise Up is $10, and includes a tee-shirt and lunch. Online registration closes on October 30 and is required for all those planning on attending. A registration form can be found on the St. Francis home page.
www.sfhscollegeprep.org
Exciting news from the Mothers' Club newly formed Faith & Service Committee
Friday Morning Moms Prayer Group

Did you know that there are a group of moms, both current and former St. Francis High School parents, who meet to pray together on Friday mornings? We pray for the students, faculty, and staff at St. Francis, as well as for other intentions that are weighing on our hearts that day. We gather in the Chapel most Fridays by 7:40 a.m. and welcome all newcomers. While the Rosary is the way we pray, you do not need to have any experience with it in order to be a part of this community of prayer.

Come and join us! For questions, feel free to contact Lisa Brose at 630-486-1447
lisabrn@aol.com


St. Francis Mothers' Club Book Club
Welcome to an opportunity to grow in your own faith by delving into a spiritual book with a group of other mothers from St. Francis High School. The first book we will discuss is a favorite of the St. Francis Religion Department as they read and discussed it together. Written by bestselling author Richard Rohr, Eager to Love: The Alternative Way of Francis of Assisi is not a typical biography of our school's patron saint, but rather an opportunity to see how our lives can be enriched by St. Francis' way of reaching out in love to others and toward heaven. Meeting day and time will be determined by those who express interest in reading the current book. While there is a short list of women who signed up at the Parents' Club Social in September, we would like to offer the opportunity to more women before we begin. For anyone who may be planning on going on the Italy trip this could be a great start to your spiritual journey.
If you are interested please contact Lisa Brose at
Lisabrn@aol.com
or 630-486-1447 by October 15.

SAVE THE DATES
Mother's Club Advent Mass and Brunch - Thursday, December 1
at 9 a.m.
Lenten Retreat - Living in Christ
- February 23-25, 2017 - Evening retreat on Thursday & Friday, concluding on Saturday morning. Open to both men and women in the St. Francis community.
More details to come about both of these events.
KRas is looking for student volunteers to assist at the walk for the National Eating Disorders Association on Saturday, October 22. Transportation is provided, and it only costs $15 to register. Permission slips are at the Pastoral Ministry Office and should be returned to KRas. Space is limited!
In the Footsteps of
Saint Francis of Assisi
Celebrate St. Francis High School's 60th Anniversary
ALUMNI, PARENTS, FRIENDS
We are hosting a trip to ITALY
May 31- June 9, 2017

3 nights in Rome, 1 night in Assisi, 2 nights in Florence, 2 nights in Venice
Rome tour with guide
Vatican Museums and the Sistine Chapel
Spanish Steps
Trevi Fountain
Saint Peter's Basilica
Colosseum & Forum with Guide
Mass in the Basilica of Saint Francis of Assisi
Private tour from a Franciscan expert
Tour of Florence
Tuscan cooking class
Ponte Vecchio
The Accademia with Michelangelo's David
Hidden Venice Tour
Gondola ride
Venice Murano glass blowin
Informational Meeting
October 12, 6:30 p.m.
Rosmonowski Room
Enter Door 1
R.S.V.P.
Sue Harsa 815 577-9965 or 815 954-0549
Diane Mercadante 630 668-5800 x1148

For more Information, please contact
Photo Retake Day
Tuesday, OCTOBER 11
All students that need to schedule

retakes OR if you missed picture day, please g
o to this link to schedule your time slot.
If possible, sign up for an appointment during your study hall.
October 18 - College Fair at College of DuPage, 6:00 - 8:00 p.m.